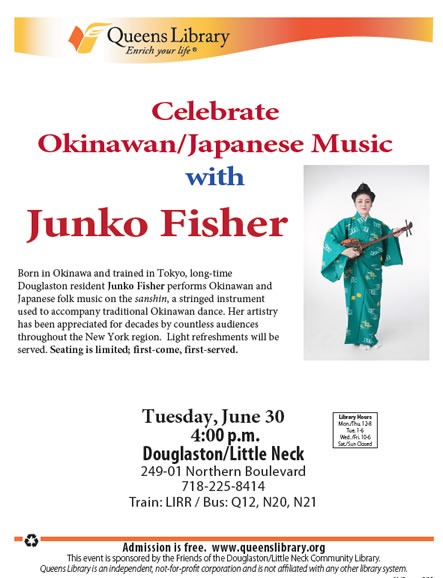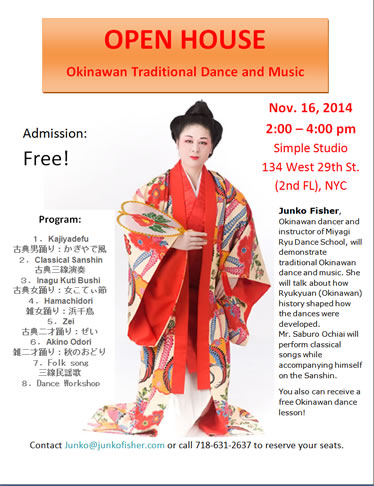 Open House, Sunday, Nov. 16, 2014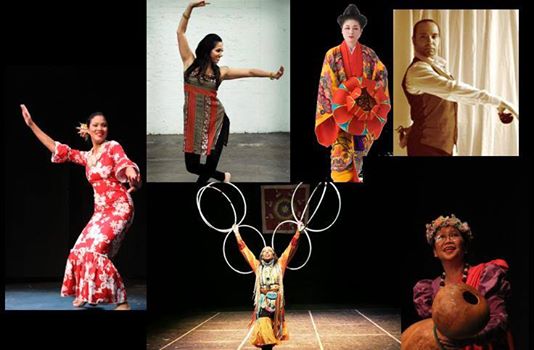 Harlem Dance Caravan, August 15-16, 2014, Marcus Garvey Park Summer Stage, New York City
I joined this project through the Lotus Music and Dance organization. This was my second project in which I had to work on my own choreography.
It was a joy to perform with multicultural dancers as well as modern dancers together in a project called "Erasing Boundaries," which was directed by George Faison,
producer at the Faison Firehouse and a Tony and Emmy Award winner. It was a great opportunity for me to work with Mr. Faison.
I went to his dance studio in Harlem several times for group rehearsals.
Our collaborative dance piece received a standing ovation. Wow! This was a really good feeling, and a different joy of stage performance than I had ever experienced.
I truly enjoyed the company of Lotus's dancers and working with Faison's family. Thank you so much, George and Lotus, for giving me this great opportunity!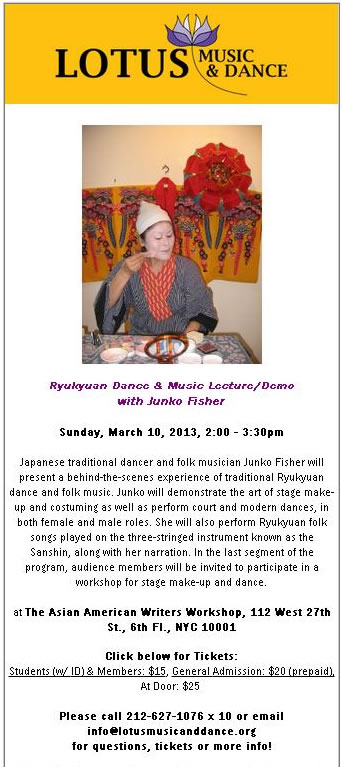 This "one-woman show" is my original program.
I demonstrate the application of stage makeup, show how we change dance costumes, perform four dances, sing a couple of folk songs while playing the Sanshin,
and discuss the history of Ryukyu performing arts and the role dance played in the history of Ryukyu during this 90-minute session, with no intermission.
I was concerned about whether I really could offer this program, since the Lotus studio had been severely damaged by hurricane Sandy and was unavailable. I appreciate the efforts of the Lotus organization to book an outside studio, which allowed my program to go on.
At the end of this program, I usually ask the audience which part of the program they liked the most. This time, one audience said that she liked the Nubui Kuduchi dance, while another said she most enjoyed the makeup demonstration.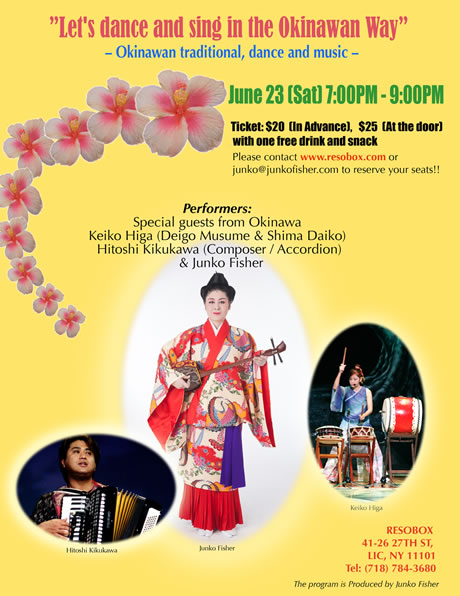 Recital: "Let's sing and dance the Okinawan way"
Resobox Gallery, Long Island City, New York
June 23, 2012
This program was very unique.
I had invited Ms. Keiko Higa, singer/drumer/musician, and Mr. Hitoshi, composer, to come from Okinawa to join in this performance,
and was lucky that they were able to join me. Keiko and Hitoshi stayed at my home for a week before the performance.
I asked Keiko to perform on Drum and Sanshin for the program; she performed her original drum piece and an amazing Sanshin hayabiki
called "Hibiki" that was a highlight of the show.
We also performed "Hana" as a collaborative piece. I had choreographed a dance to the song "Hana,"
so I danced, Keiko sang and played the Sanshin, and Hitoshi accompanied us on keyboards.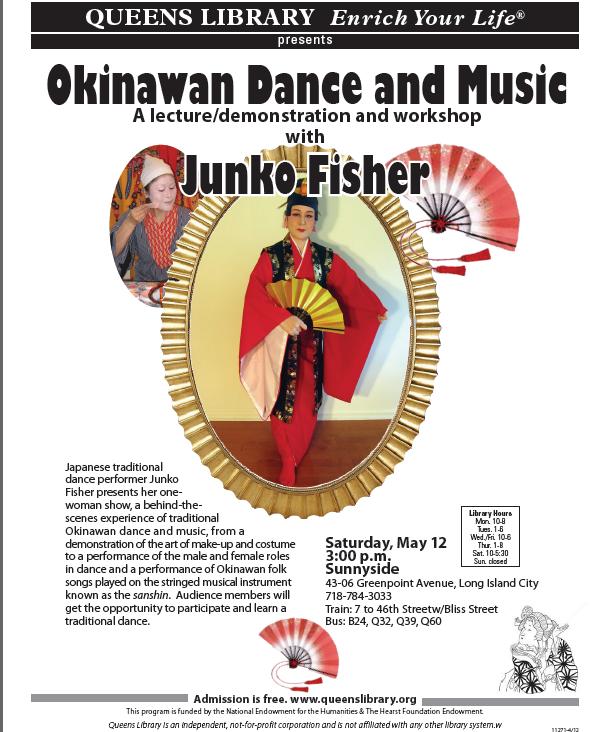 One-Woman Show on Okinawan Traditional Performing Arts
Queens Library, Sunnyside Branch, Long Island City, NY
May 12, 2012
My solo program called "90-minute Okinawan Performing Arts" was first accepted by the Queens Library in 2009.
I have been able to offer the same program at nine branches of the Queens Library through 2012.
The audience gathered at each branch was very different. It is indeed was a joy to offer Okinawan dance and music, since multiple nationalities live in Queens,
and each time I meet with people from different nations. I remember the Sunnyside branch very well, since a lady from Bangladesh joined the program
and she also joiend my dance workshop after the program. Her movement was so natural; with little explanation, she was following along so easily.
Each time I have offered this program, I have felt a closeness and similarity of culture (at least as far as dance and music) with people from India and other Asian nations.
For example, I met a Chinese man at the Douglaston branch workshop, who told me, "your dance is very similar with Chinese martials arts." I let him know that Okinawan dance was, indeed, influenced by Chinese martial arts, and thanked him for coming to my show.
This program was created as a part of an adult education program, but many children participated.
Thank you Ms. Doris Jones, program director of the Queens Library,
I will never forget her words when she contacted me:
"We are all alike."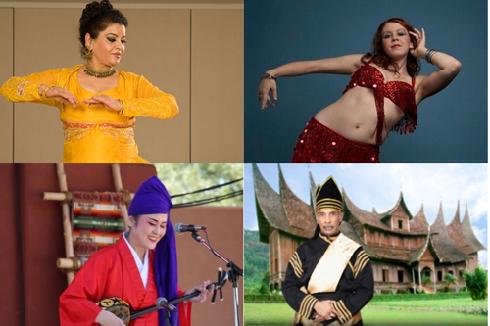 Lotus Spring Open House
Lotus Music & Dance, April 29, 2012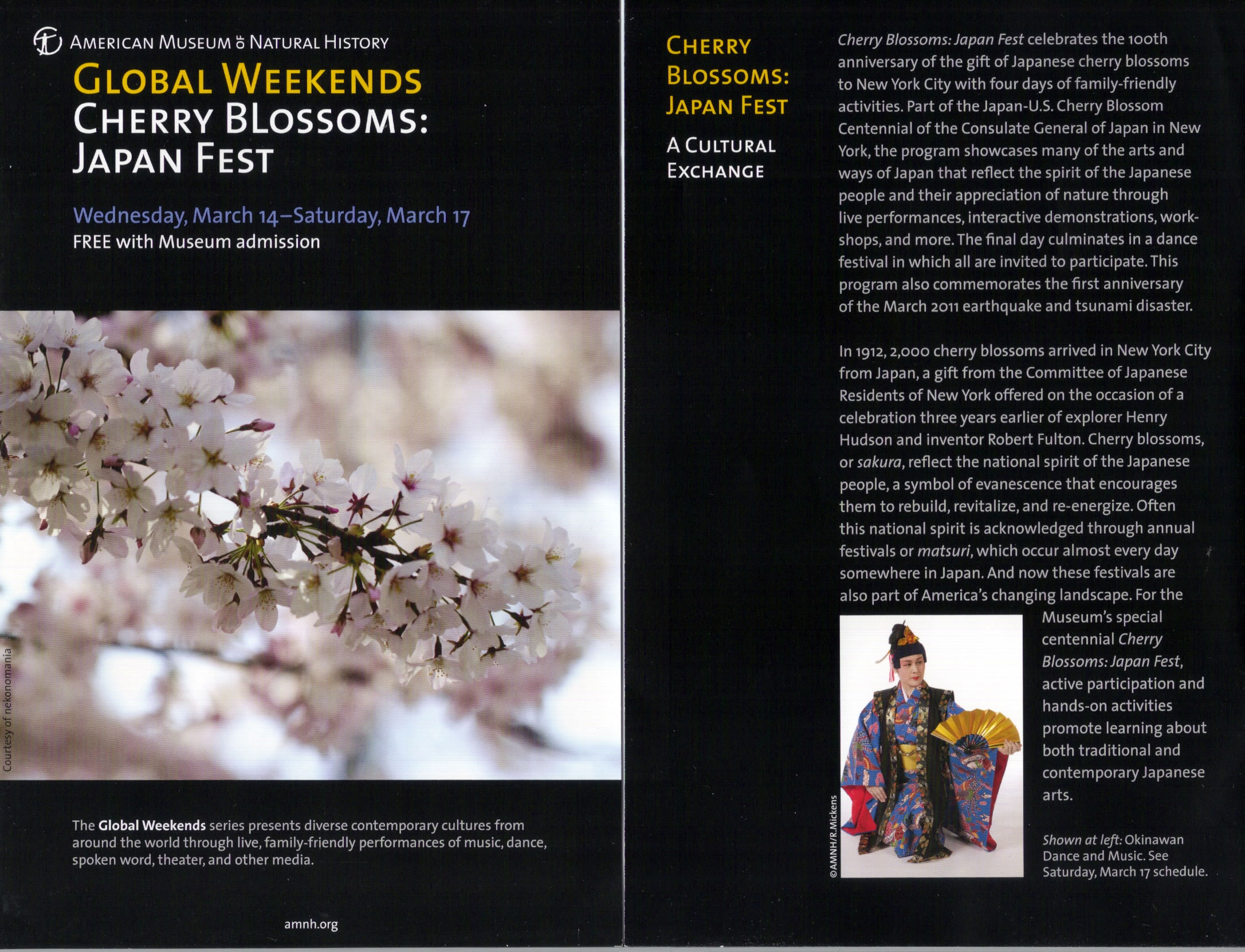 Okinawan Dance, Music, and Ryukyu Koku Matsuri Daiko Performances
Kaufmann Theatre, American Museum of Natural History, New York City
March 17th, 2012
I was contacted by a program manager at the American Museum of Natural History about a 45-minute program. I wondered how I would manage
to perform for that long all by myself; luckily, I have wonderful assistants. Satoka Nagano played the Sanshin and sang, and helped me a great deal at the time.
I also got help and support from Philadelphia's Matsuri Daiko group, as well as a wonderful host, Mimi Ogawa.
The same day, I also offered a drum workshop for children, as well as leading an Okinawan-style Bon dance for the Tachibana Folk Dance group.
So many tasks involved with one project!
I was very concerned about completing the stage show in 45 minutes as requested; luckily, our host and performers were well-coordinated without stage reherasal,
and we were able to finish in 44 minutes, 30 seconds. Amazing, isn't it? I thought, "I can be a stage manager!" just as the organizer came up to say "Congratulations".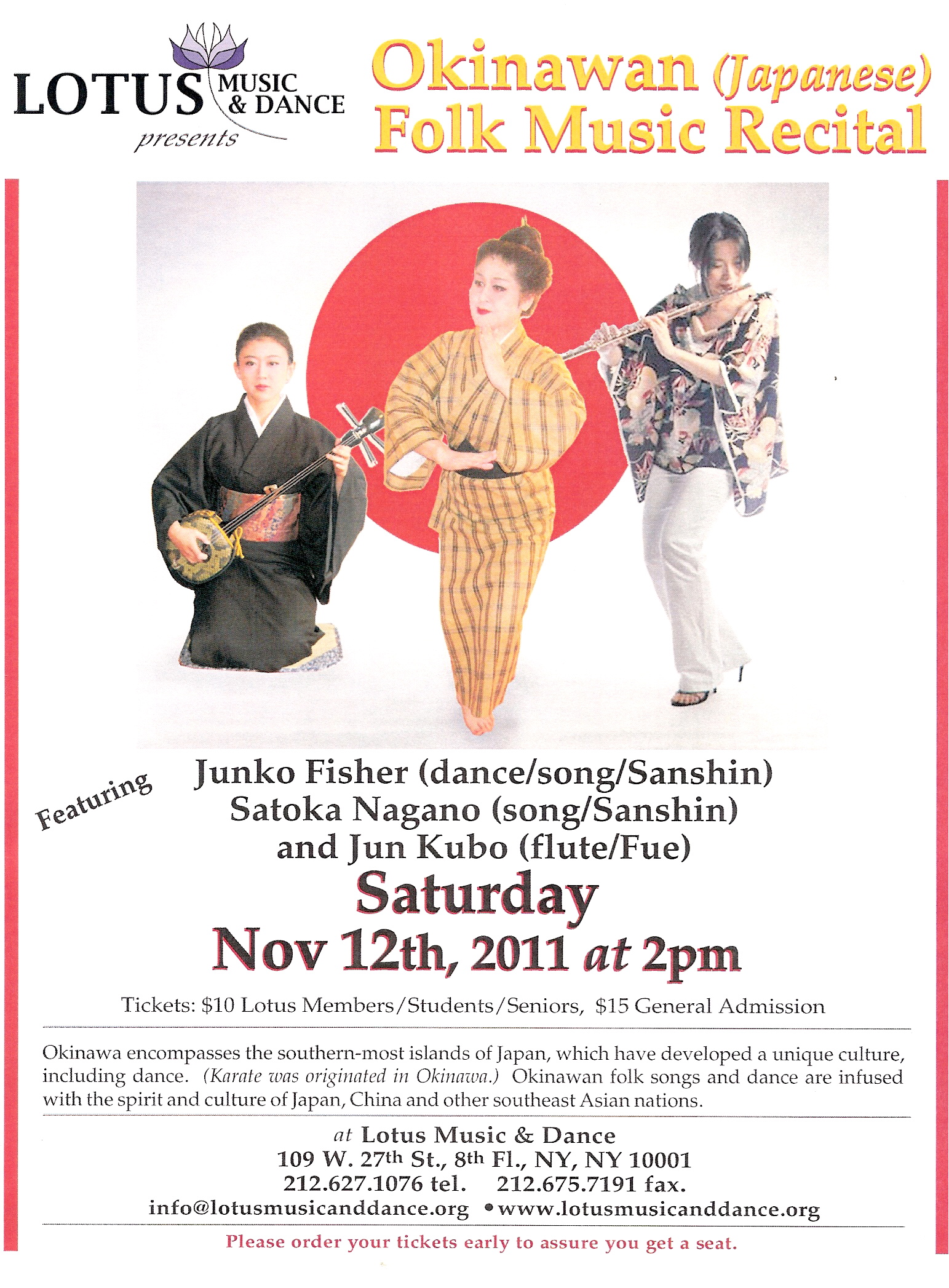 This was my first trio-recital in New York. I wanted to introduce non-Okinawan musical instruments for this program,
so I asked Jun Kubo to join the project. I was lucky she was able to participate.
A highlight of the show was "Tsuki Nu Kaish," a corraboration by the three of us: I danced, Satoka played the Sanshin and sang, and Jun performed on fue.
We also sung "Furusato" together, as a tribute to the victims of the Tohoku Tsunami. A Japanese man in the audience cried as he listened to us; I was moved by that.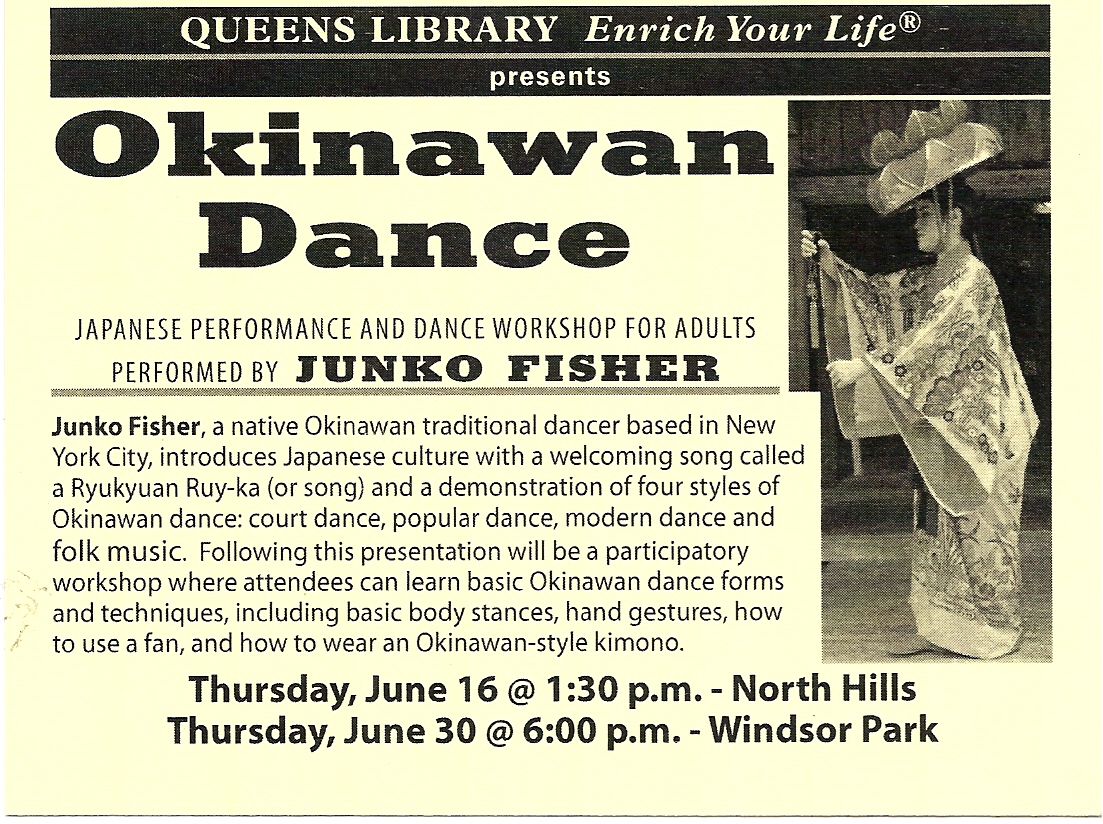 Okinawan Dance and Music
Demonstration, Lecture and Workshop
Windsor Park Branch, Queens Library June 30, 2011
North Hills Branch, Queens Library, June 16, 2011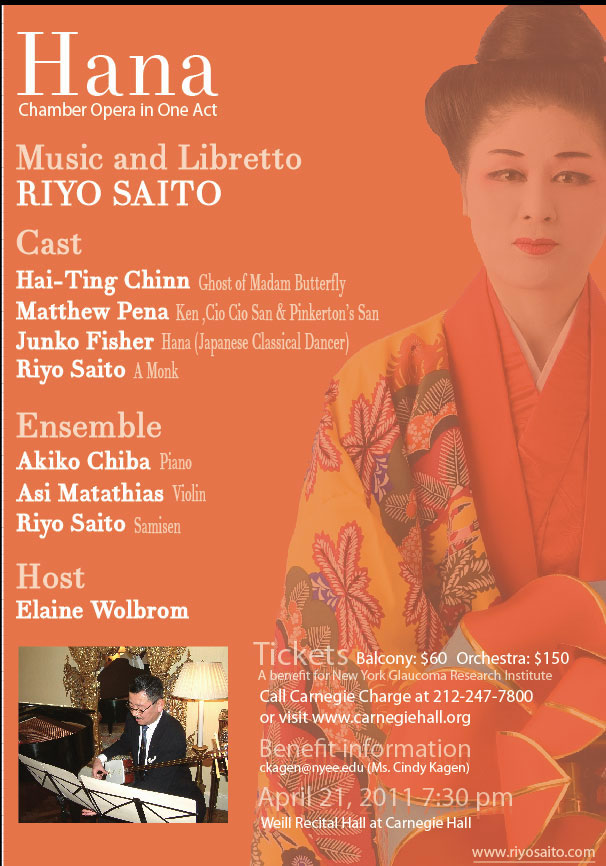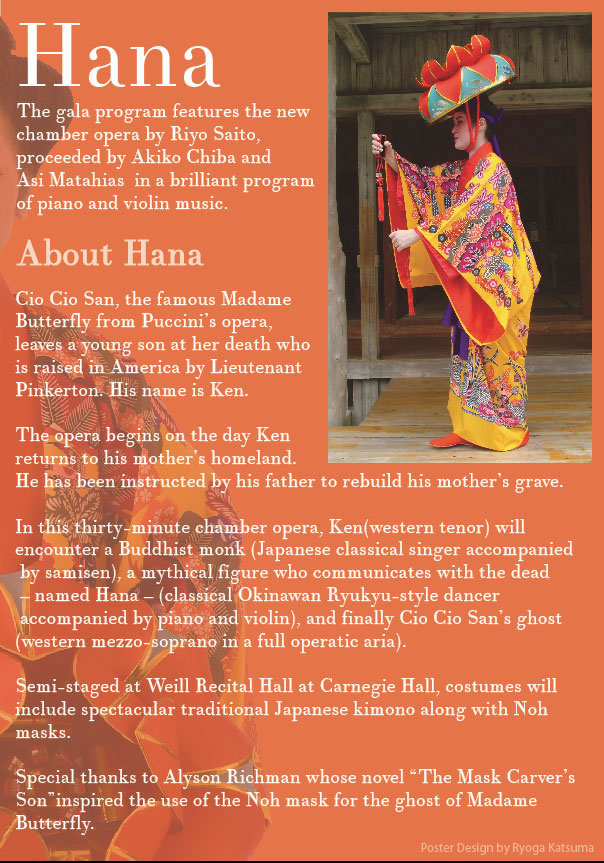 This is my first project as a choreographer. Thank you, Riyo Saito, for assembling a such wonderful cast. I enjoyed working with him and his original classical music.
I enjoyed every moment of the show, performing with a professional classical pianist, opera singers, and a violinist. It was a truly unique experience for me.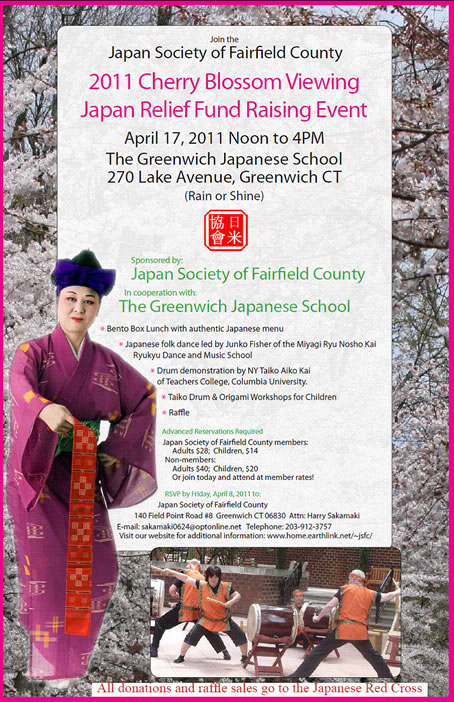 I was invited to dance on the Greenwich School stage twice; this was the second time I performed there.
I truly appreciate the Japan Society of Fairfield County for inviting me again to this event. I performed the Okinawan popular dance Kanayo, and then performed Thinsagunu Hana on the Sanshin with the audience singing along with me.
This special event was dedicated to supporting the Tsunami Victims in Tohoku, Japan.